Talent… it has been the most talked about term in business for the last two years. FINALLY, organizations have changed the long held view of talent as an expense and begun valuing it as the key driver of success. With all of the emphasis on attracting and retaining top talent, is 2022 the year of the recruiter?
I wrote a piece in February 2020 calling out HR for not staffing the recruiting function adequately in Talent Acquisition Should have MORE Resources in HR. Fast forward 2 years and the message is finally being heard. Companies are almost aching for professional recruiters to help them with their severe talent needs and HR has finally realized the importance of Talent Acquisition in the HR Strategy.
Amy Schultz, the global head of talent acquisition for the Australian software maker Canva, wrote in a recent post: "As of right now, there are 364,970 'Recruiter' jobs advertised on LinkedIn worldwide. For comparison, there are 342,586 'Software Engineer' roles open on LinkedIn worldwide."

http://www.linkedin.com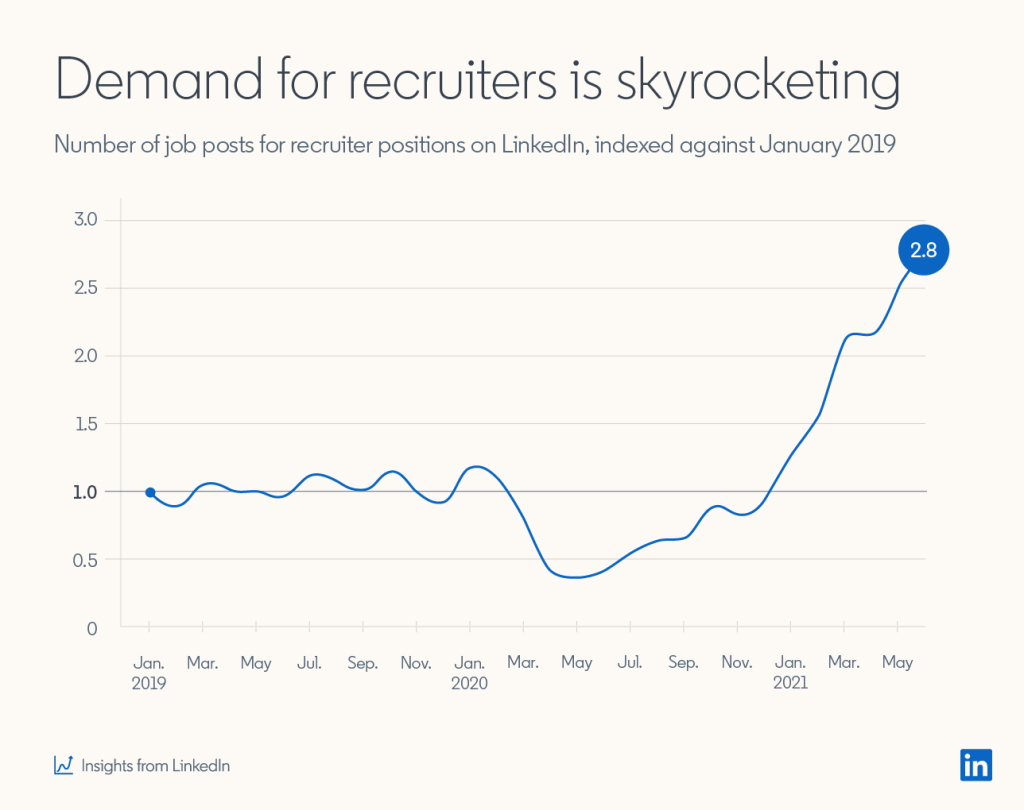 We all know there is a cost associated with turnover, both voluntary and involuntary. Once you have the right recruiting team in place, empower them to be the gatekeepers to your organization. Challenge them to be incredibly selective in who they let "sit at your table". Give them the power and authority to be like Gandalf in the Lord of the Rings who boldly stood against a fiery enemy and proclaimed: You shall not pass. Once you give them that power, you will be amazed at how protective your newly empowered recruiting team will be of your organization. I would also suspect their engagement will increase proportionally.
If you have a stable recruiting organization you may want to do a check-in with the team. Many recruiters are experiencing increased levels of burnout, fatigue and anxiety as companies apply pressure to secure top talent in a challenging market. The last thing you want to do is neglect the very people who are responsible for bringing talent to your company when the demand for their skillset is at the highest it's been in years.
To my recruiting friends, remember you are both the tip of the spear and the commanders in the war for talent. The key to success will be your relentless pursuit of prioritization. Force your clients to prioritize the openings, develop a success routine and stick with it, and take the time you need to rejuvenate with time off.
Remember the war for talent will not be won without you.
If you would like some tips and tricks on how to prioritize your work and develop a success routine, check out some of the articles below:
About me
and Sprint Recruiting
I joined the HR industry in 2004 after working as a sales leader in the Financial Services Industry for eight years. After spending his first couple of years in HR trying to fit in, I found my voice. Now I leverage all of the things I once hated about HR to become a consultant and invaluable partner to the businesses I support. I contribute to the HRGazzette and to DataDrivenInvestor on Medium. WARNING: my writing style is raw and in your face, not what you would expect from an HR executive.
If you would like to learn more about Sprint Recruiting, Click here to join our mailing list for the book release. You'll get premier access to:
Get helpful recruiting tips sent to you monthly!
Read each chapter of the book Sprint Recruiting as it's written
Resources including graphics, reports and training
Special Q&A sessions to learn how Sprint Recruiting can help you transform your Talent Strategy.