Talent… it has been the most talked about term in business for the last two years. FINALLY, organizations have changed the long held view of talent as an expense and begun valuing it as the key driver of success. With all of the emphasis on attracting and retaining top talent, is 2022 the year of the recruiter?
I wrote a piece in February 2020 calling out HR for not staffing the recruiting function adequately in Talent Acquisition Should have MORE Resources in HR. Fast forward 2 years and the message is finally being heard. Companies are almost aching for professional recruiters to help them with their severe talent needs and HR has finally realized the importance of Talent Acquisition in the HR Strategy.
Amy Schultz, the global head of talent acquisition for the Australian software maker Canva, wrote in a recent post: "As of right now, there are 364,970 'Recruiter' jobs advertised on LinkedIn worldwide. For comparison, there are 342,586 'Software Engineer' roles open on LinkedIn worldwide."

http://www.linkedin.com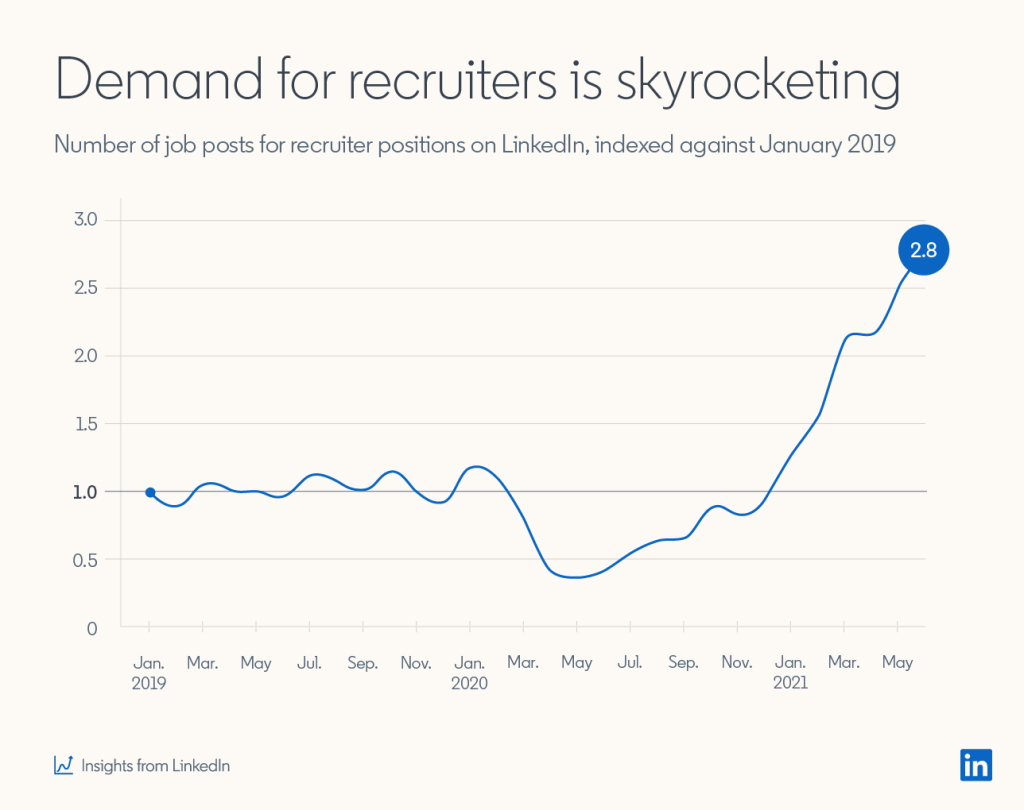 We all know there is a cost associated with turnover, both voluntary and involuntary. Once you have the right recruiting team in place, empower them to be the gatekeepers to your organization. Challenge them to be incredibly selective in who they let "sit at your table". Give them the power and authority to be like Gandalf in the Lord of the Rings who boldly stood against a fiery enemy and proclaimed: You shall not pass. Once you give them that power, you will be amazed at how protective your newly empowered recruiting team will be of your organization. I would also suspect their engagement will increase proportionally.
If you have a stable recruiting organization you may want to do a check-in with the team. Many recruiters are experiencing increased levels of burnout, fatigue and anxiety as companies apply pressure to secure top talent in a challenging market. The last thing you want to do is neglect the very people who are responsible for bringing talent to your company when the demand for their skillset is at the highest it's been in years.
To my recruiting friends, remember you are both the tip of the spear and the commanders in the war for talent. The key to success will be your relentless pursuit of prioritization. Force your clients to prioritize the openings, develop a success routine and stick with it, and take the time you need to rejuvenate with time off.
Remember the war for talent will not be won without you.
If you would like some tips and tricks on how to prioritize your work and develop a success routine, check out some of the articles below:
About me
and Sprint Recruiting
Trent Cotton is a highly accomplished leader and strategist with extensive experience in organizational development, talent management, and business operations. With a strong background in HR leadership, he has a proven track record of designing and implementing innovative HR programs that drive employee engagement, retention, and business performance.
As an experienced executive, Trent has worked with some of the world's leading companies, where he has led and supported HR initiatives across a broad range of functions, including talent acquisition, workforce planning, diversity and inclusion, performance management, and employee relations. He is also highly skilled in HR technology implementation, data analytics, and HR process improvement, helping organizations to optimize their HR operations and drive business results.
If you follow his blog http://www.sprintrecruiting.com or have read his book, Sprint Recruiting, you would experience his raw communication style, his ability to build and lead high-performing teams, and his strategic mindset. He is passionate about creating workplaces where employees can thrive and grow, and he is committed to helping organizations leverage the power of their people to achieve their business objectives.
In addition to his professional experience, Trent is actively involved in his community and has served on several boards and committees supporting education, workforce development, and diversity initiatives.
In his free time, Trent has written two books: "The 7 Deadly Sins of HR" and most recently, "Sprint Recruiting". He will be releasing "The High Performing Recruiting Team" in the fall of 2023 and "FutHRist" in 2024.
He's an active participant in the HR Industry and is asked to participate in roundtables or provide keynotes for many organizations. His blog Sprintrecruiting.com reaches thousands of readers and provides unique insights on a range of recruiting topics.
Connect with him on LinkedIn or Twitter for more.
If you would like to learn more about Sprint Recruiting, Click here to join our mailing list.
Be sure to check out the resource center providing helpful templates, dashboards and other material related to Sprint Recruiting.